Number One Dream Town to Retire for 2006
LAS CRUCES, NEW MEXICO
Tina and Doug Bailey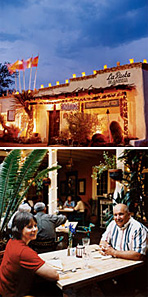 Like many residents of Las Cruces, Tina and Doug Bailey are happy to talk about the city's wonderful weather, the cultural perks that come with living in the same town as New Mexico State University, and the delicious New Mexico-style Mexican food (Las Cruces calls itself the chile capital of the world). But also like most people, the Baileys struggle a little to explain the ethereal charm of this desert town, set at the foot of the Organ Mountains, that has of late attracted so many retirees. "It's the light," says Tina, 56, who moved here in 1971 and married Doug, 64, a California transplant, in 1985. "It just makes everything look and seem so beautiful—that's why so many painters come here."
What's more, Las Cruces, despite its rapid growth and its rank as New Mexico's second-biggest city, still has a relaxed pace and affordable prices. Real-estate prices in Las Cruces are climbing (the median home price in 2005 was $168,000), but they're still a far cry from those in Santa Fe (median house price: $470,000). "We can get in the car and drive to Santa Fe for the weekend, without having to pay those housing prices," Doug says.
The Baileys, who own a government-contracting company, still work but are inching their way toward full retirement. And they're conscious of laying the groundwork they believe will keep them happy in Las Cruces well into old age. Both are avid swimmers, and they work out often with the Las Cruces Aquatic Masters Team. Both also are active volunteers, and they're big fans of the local arts. "We really love the musical and theatrical productions the university does. We pay around $300 for season tickets to the symphony, fifth row, center," says Tina. "We've had these seats ever since we married, and we're lucky—it's often sold out."
Why the locals love it
Las Cruces is a bargain
In addition to having low property taxes, New Mexico taxpayers 65 and older may exempt up to $8,000 (single filer) or $16,000 (married, filing jointly) from any income source if the income is under $28,500 (single filers) or $51,000 (filing jointly). If you're 100 or older, you pay no income tax whatsoever.
Lifestyle perks
Thanks in part to the facilities of New Mexico State University and the growing retiree population, Las Cruces has plenty of outdoor fitness options, including four golf courses. And the mountains offer great hiking and camping.
Great escapes
Santa Fe, with its many cultural events and festivals, is a four-hour drive. The gypsum hills of the White Sands National Monument are 40 miles away, while Juárez, the nearest shopping town in Mexico, is just an hour's drive away.
Residents love
Watching the sun set over the Organ Mountains. "There are oranges, blues, purples, greens—sometimes in the winter there's a dusting of snow—it's always breathtaking," says Tina. "We don't get tired of it."
Average temperature in summer: 95° F
Average temperature in winter: 65° F
Number of sunny days per year: 330
Casual supper for two at Peppers on the Plaza, and maybe even a run-in with the ghosts of star-crossed lovers who are said to haunt it: $40
Hot tickets: Las Cruces Symphony, $25
From: AARP Magazine, Jul/Aug 2006